Felt and Fiber Materials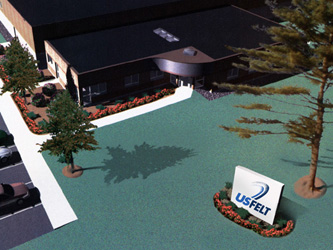 From its beginning in 1987, the US Felt Company has been built upon the foundation of service; to its customers, employees and community. We are guided by our core values of:


TRUST
LOYALTY
INTEGRITY
These values create an environment that naturally fosters a sense of respect, responsibility and confidence. Actively pursuing these ideals daily is essential to attain our goals for:
Teamwork, energizing a high level of Co-operation and Execution,
Creativity, enabling a keen sense of Innovation and quest for Knowledge,
Performance, achieving high standards of Quality and On-Time Service, and
Prosperity, enhancing the common purpose for all to Succeed.
Now entering our "thirties", and guided by new leadership and vision with the change of ownership in 2007, we are well prepared to face today's challenges. Our belief in forming strategic associations, the high value we place in our employees and emphasizing sound business practices is the cornerstone for a secure future that makes US Felt a stable and reliable provider.
With an orientation towards customer satisfaction, US Felt developed their capabilities based upon being a total supplier to their customers. Having the ability to manufacture from fiber to finished product, USF can deliver a complete solution to your needs and requirements.